Receipt Paper Printed Preprinted Rolls - Custom
We offer custom printed paper rolls with your preprinting text and/or logos for all types of receipts include custom printed thermal paper rolls, custom printed single bond paper rolls, and custom printed 2-ply carbonless self-duplicating paper rolls. You can design the printing and goes on each roll and this preprinting can be on thermal paper rolls or regular (bond) rolls. Custom text and your logo are just some of the preprinting on paper rolls that we offer to produce a custom looking receipt. You can choose to preprint a return policy, a watermark to prevent copying of your receipts. Your can select from hundreds of different colors to have your custom preprinted information and/or logo printed in. Each preprinted paper roll can have the preprinting done in more than one color as you get to give your customers the custom receipt preprinted with your information that helps them remember your business as well as be aware of your policies. Note that for each different color selected for printing, the cost of your custom preprinting paper roll will increase so keep this in mind as you work on your print design logo and/or text.
We can preprint any type of receipt printer paper roll with your company's logo, information, return policy, and/or any other type of information you wish to have on the back of each receipt. This preprinting can go on the back of one-ply bond or thermal paper as well as either copy if you are using 2-ply duplicating paper rolls. The printing of your logo and text can be done in many colors including black, blue, red, or any Pantone Matching System® (PMS) color available. You can also have watermarks or other security items preprinted in white and UV security ink. Multiple color printing is also possible and is dependent on many variables that we would need to discuss individually with you.
The logo and/or text custom preprinting is set to repeat every certain number of inches you specify by varying font and spacing. This is in an effort to ensure that you have one complete set of text and/or logo on each receipt given to your customer. Therefore, if you have an average minimum receipt length of 6 inches, we would attempt to have the text repeat about 4-5 inches. The preprinting is done by creating a plate for each color you need printed on your paper rolls.
Sounds good but how much does this cost? Costs vary greatly mainly depending on the quantity of paper rolls ordered as well as the number of colors you wish to be printed. Each color you select requires a different plate.
Thermal 3 1/8 x 230' Small Jobs
Our most popular preprinting is done for those customers who want a small number of cases of common 3 1/8 inch (80mm) thermal rolls used by most receipt printers. We know that 25 or more cases is way more than many customers will use or need so we have created a special program to allow you to purchase as few as 5 cases (250 rolls of 230 feet on each roll) and only a $65 plate fee using an offset printer which produces top quality printing. There are 10 standard colors from which you can select one color for the printing. The price for preprinted thermal paper rolls is $95/case for a 5 case order plus shipping. The price for a 10 case order of custom printed thermal paper is $85.00/case plus shipping. A 25 case order would be $79/case plus shipping.
This gives you a higher cost per case than a larger run would but minimal plate charge and sometimes a shipping savings if you are located closer to the East Coast vs. our normal Phoenix printing. If you have a particular PMS color you need or desire multiple color printed rolls, these upgrades are available for only slightly more and still allows you to only purchase a small number of cases.
Other Sizes & Larger Jobs
We can do printing on any size paper in larger quantities which allows for better per case pricing.
Custom Plate Creation - The one time plate creation cost varies depending on artwork/text (what we will be printing for you). Should you want to change the preprinting in anyway in the future, it will require another plate be paid for and created so do your best to make sure you get everything the way you want it the first time. We keep the plate at our facility for no charge to use when you need to order additional paper at no additional charge after the first order as long as what we are printing on the paper rolls for you isn't changing.
Minimum Order Size - Since the preprinting of your paper requires special handling and labor, we have a minimum order size of 5 cases (50 rolls per case) for most paper sizes. However, the more you order, the lower cost we can offer you with price breaks at the 10, 25 and 50 case levels.
Shipping - Orders are shipped via truck or UPS depending on size from either Arizona or Indianapolis location depending on order size, printing complexity and your location used to determine the best solution for your custom preprinting needs. Costs of the shipment vary greatly depending on order size and your location. This shipping amount will be quoted to you prior to your order being finalized or you may arrange for your own trucking company to pickup the paper rolls from either plant FOB.
Actual Customer Samples
NOTE: Paper scanning and image compression causes the printing shown here to not look crisp as it actually does on the paper. These samples are shown to give you an idea of what can be put on your preprinted paper rolls and not to show the quality of the printing produced.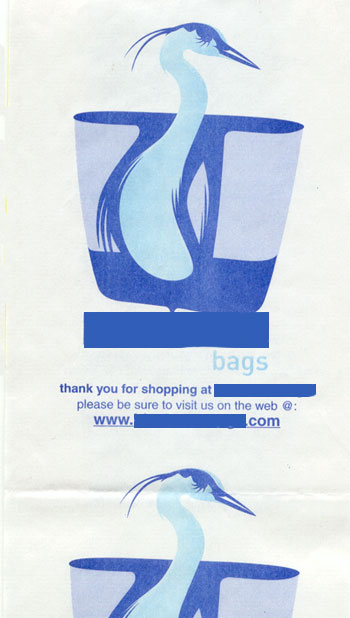 The time it takes to create and ship your custom receipt paper varies but is usually 3 weeks from the time you approve the proof for your first order due to plate creation time and about 2-3 weeks for future orders when using the same plate again.
If the above information doesn't answer your questions, call or send us an email and we will do our best to explain the process and answer your questions. When you are ready to have your own professional quality receipts to give to your customer, contact us and we'll ask you the questions to provide you with a detailed quote with no obligation. If you decide to proceed, we take your artwork and/or text of what you want printed and produce a proof for you to OK or make changes to before the printing begins. Once the proof is OK'd, we will make the plate and print your custom receipt paper rolls for you.
A few customer testimonials:
"I wanted to let you know that our paper got here today. And they are PERFECT!! Thank you so much for all your help with it and I will let you know when I need more! Have a great day, Lindsey R,." - August 25, 2010
"The paper arrived yesterday....and it looked great. Just wanted to say 'thanks' for your prompt service. Good customer service is an attribute I hold in high regard. Sadly, we see less and less of it." - March 2, 2007

Website Copyright© 2002-2015 Sunshine POS, LLC
Sunshine POS, LLC
40913 N 3rd Ave
Phoenix, AZ 85086
Outside US, In Arizona and Technical Support: (623) 328-8919
Toll Free Order/Inquiry Line: 87-SUPPORT-3 or 877-877-6783