First Data FD100 120' Paper 10 Rolls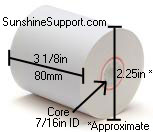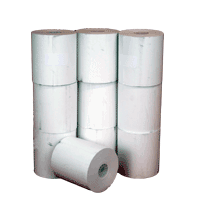 First Data FD100 120' Paper 10 Rolls
Quantity Ordered
Your Price
1
$13.95
2 or more
$12.95
3 1/8 Inch 80mm Thermal Black Image Receipt Printer Paper
Fits Thermal Printers Requiring Shorter Rolls 80mm or 3 1/8 Inch Paper
Each Roll 120 Feet in Length - 10 rolls per unit ordered
Custom length for First Data FD100 Credit Card Terminals
NOTE: Will not fit First Data FD100ti terminals.
First Data FD100 paper rolls. Each case contains 10 rolls of 3 1/8 inch x 120 foot of thermal, black image receipt printer paper. These shorter rolls are designed for First Data FD100 and FD300 printers requiring a smaller diameter roll of 80mm thermal paper. Will NOT fit FD50 and FD100ti machines, see item 997964 in related products below.
All Items are Brand New in Factory Box with Manufacturer USA Warranty unless otherwise specified.
Contents: 10 Rolls
Website Copyright© 2002-2017 Sunshine POS, LLC
Sunshine POS, LLC
40913 N 3rd Ave
Phoenix, AZ 85086
Outside US, In Arizona and Technical Support: (623) 328-8919
Toll Free Order/Inquiry Line: 87-SUPPORT-3 or 877-877-6783