MagTek Mini MICR Check Reader USB MSR Grey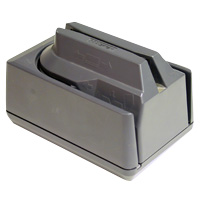 MagTek Mini MICR Check Reader USB MSR Grey
Retail:
$365.00
Your Price:
$219.00
USB Interface (Cable Included in price)
Grey Color
MICR Check Reader and 3 Track MSR (magnetic stripe reader)
When connected to computer, USB port emulates COM (serial) port not a keyboard.
Mag-Tek Mini MICR check readers have a small footprint to give you high accurace and dependability for a low cost. It will read MICR characters in both E13-B and CMC-7 MICR fonts from checks, deposit slips, and other documents. Available with either a USB, keyboard or RS-232 interface and with or without a MSR (magnetic stripe reader).
All Items are Brand New in Factory Box with Manufacturer USA Warranty unless otherwise specified.

Website Copyright© 2002-2017 Sunshine POS, LLC
Sunshine POS, LLC
40913 N 3rd Ave
Phoenix, AZ 85086
Outside US, In Arizona and Technical Support: (623) 328-8919
Toll Free Order/Inquiry Line: 87-SUPPORT-3 or 877-877-6783