Partner Tech CD-5220 2x20 Black Standard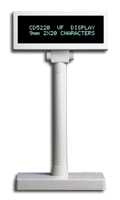 Partner Tech CD-5220 2x20 Black Standard
Retail:
$206.00
Your Price:
$144.00
Displays 2 Lines of 20 Green Characters
Each Character is 9mm in height
Multiple Pole Sections for Custom Height Configuration.
Serial Interface with 9 pin female cable included
Color: Black
Standard Size Base
Partner Tech is known for its quallity pole dislays. This pole display feature 2 lines of 9mm characters and 20 character per line. Two pole sections (1 short, 1 tall) included which can be used individually or put together for extra height when needed. Standard base with a serial interface and extra pass-through serial port for connecting an additional serial device to it. The CD-5220 also offers a variety of emulation modes including Epson, Aedex, Emax and Ultimate.

Black in color to match other black equipment you may already have.
All Items are Brand New in Factory Box with Manufacturer USA Warranty unless otherwise specified.

Website Copyright© 2002-2017 Sunshine POS, LLC
Sunshine POS, LLC
40913 N 3rd Ave
Phoenix, AZ 85086
Outside US, In Arizona and Technical Support: (623) 328-8919
Toll Free Order/Inquiry Line: 87-SUPPORT-3 or 877-877-6783