1-Ply 3 inch x 165' COLORED Paper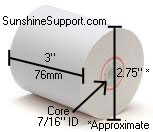 1-Ply 3 inch x 165' COLORED Paper
Quantity Ordered
Your Price
1
$49.95
2 or more
$47.95
One Ply Bond Colored 3 Inch Wide Receipt Printer Paper
Each Roll 165 Feet in Length
50 Rolls per Case
Top Quality - Not the 'rough' paper found at office supply stores
Yellow (canary) generally always available. Blue, Green, and Pink availability varies.
Email for color availability before ordering as color selection changes.
Each case contains 50 rolls of 3 inch x 165 foot of top quality colored one-ply bond receipt printer paper. Fits most Epson Impact printers (TM-U200, TM-U220 series, TM-U300), Citizen, Star, Samsung Bixolon (SRP-250, SRP-270, SRP-275 series) and many other POS receipt printers that require 3 Inch paper. Colors include canary (yellow), blue, and green. Canary color is usually in stock, blue and green availability varies, email before ordering to confirm availability.
All Items are Brand New in Factory Box with Manufacturer USA Warranty unless otherwise specified.
Contents: 50 Rolls
Website Copyright© 2002-2017 Sunshine POS, LLC
Sunshine POS, LLC
40913 N 3rd Ave
Phoenix, AZ 85086
Outside US, In Arizona and Technical Support: (623) 328-8919
Toll Free Order/Inquiry Line: 87-SUPPORT-3 or 877-877-6783