Thermal 3 1/8 Inch x 2500' 3M Smart Return 4 Rolls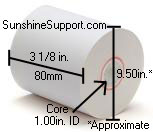 Thermal 3 1/8 Inch x 2500' 3M Smart Return 4 Rolls
Retail:
$159.95
Your Price:
$109.95
3 1/8 Inch Thermal Black Image Receipt Printer Paper
Fits 3M SmartReturnTM machines.
Each Smarrt Return Roll 2500 Feet in Length
Four SmartReturn rolls per case ordered
Each case contains 4 rolls of 3 1/8 inch x 2500 foot of thermal, black image receipt printer paper. Designed for patron self return machines like 3M Smart Return machines and other SmartReturn type machines found at libraries and other similar locations. Great low price on long length thermal printer rolls. Compatible part number 19548ATM.
All Items are Brand New in Factory Box with Manufacturer USA Warranty unless otherwise specified.
Contents: 4 Rolls
Website Copyright© 2002-2017 Sunshine POS, LLC
Sunshine POS, LLC
40913 N 3rd Ave
Phoenix, AZ 85086
Outside US, In Arizona and Technical Support: (623) 328-8919
Toll Free Order/Inquiry Line: 87-SUPPORT-3 or 877-877-6783