Bixolon SRP-350II SRP-275II Parallel Interface Card
NOTE: Samsung is now Bixolon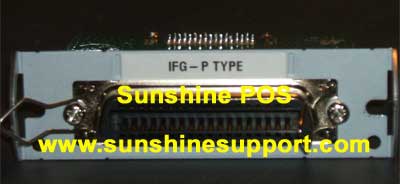 Bixolon SRP-350II SRP-275II Parallel Interface Card
Retail:
$54.00
Your Price:
$26.95
IFG-P Parallel Interface Card for Bixolon Printers
Fits Models SRP-275II, SRP-350II, SRP-350Plus, and SRP-350PlusII printers
Allows conversion from another interface to parallel.
Bixolon Receipt Printer Parallel IFG-P interface card. This card can be used to convert any Bixolon SRP-275II, SRP-350II, SRP-350Plus, or SRP-350PlusII to a parallel interface model. This is done by removing two screws holding interface card in place, removing old interface card, inserting new interface card, and replacing two screws.
All Items are Brand New in Factory Box with Manufacturer USA Warranty unless otherwise specified.

Website Copyright© 2002-2017 Sunshine POS, LLC
Sunshine POS, LLC
40913 N 3rd Ave
Phoenix, AZ 85086
Outside US, In Arizona and Technical Support: (623) 328-8919
Toll Free Order/Inquiry Line: 87-SUPPORT-3 or 877-877-6783