Epson ERC-23 Black Printer Ribbon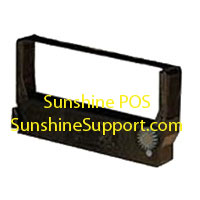 Epson ERC-23 Black Printer Ribbon
Quantity Ordered
Your Price
1 to 5
$3.95
6 to 11
$2.45
12 or more
$1.95
Epson Compatible ERC-23B Printer Ribbon Cartridge
Verifone P250 Compatible
Priced per ribbon. Each ribbon is wrapped in plastic to ensure longer life when opened.
Epson ERC-23 B (Black Only) combination receipt printer ribbon for the any printer requiring a ERC23 ribbon. Most common use printer is a Verifone 250 credit card machine. Priced per ribbon, order the exact quantity you need.
All Items are Brand New in Factory Box with Manufacturer USA Warranty unless otherwise specified.
Contents: 1 each
Website Copyright© 2002-2017 Sunshine POS, LLC
Sunshine POS, LLC
40913 N 3rd Ave
Phoenix, AZ 85086
Outside US, In Arizona and Technical Support: (623) 328-8919
Toll Free Order/Inquiry Line: 87-SUPPORT-3 or 877-877-6783