Epson ERC-30/34/38 Purple Printer Ribbon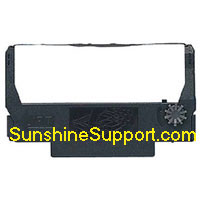 Epson ERC-30/34/38 Purple Printer Ribbon
Quantity Ordered
Your Price
1 to 5
$3.95
6 to 11
$2.45
12 or more
$1.95
Priced per Ribbon, order as many as you need in any quantity.
Compatible Epson ERC-38P Printer Ribbon Cartridge
Each ribbon individually wrapped in plastic to eliminate drying out
Epson TM-U200 Epson TM-U220 Compatible
Samsung Bixolon SRP-270 and SRP-275 Compatible
Fits any printer requiring a ERC-30, ERC-34, or ERC-38
For Epson Authentic OEM Ribbon, see EPSON ERC-38B
Purple color for a longer lasting ribbon.
Epson Compatible ERC-38P (Purple) receipt printer ribbon for the Epson TM-U200 (TM200, TMU200), TM-U220 (TMU220), Epson TM-U300 (TM300, TMU300) series printers, Epson IT-U375, Panasonic PM300, Samsung Bixolon SRP-270 (SRP270), Samsung Bixolon SRP-275 (SRP275) receipt printer ribbons and others listed below.
Sealed in plastic to eliminate drying out before installation.
FOR USE IN:
Anker Data Systems 40.0068, 40.2064
BMC International CR280, Datamega DPN-2700, Datamega TM-U370, Datamega TM-U375
EPSON ERC30 Compatible, Epson ERC34 Compatible, Epson ERC38 Compatible
Epson ITU200D, Epson 270, Epson 300D, Epson M133A, Epson M17-JB, Epson M119, Epson M270, Epson M280, Epson M52-JB, Epson TM-267 II, Epson TM-270, Epson TM-300A, Epson TM-300C, Epson TM-300D, Epson TM-U200B, Epson TM-U200D, Epson TM-U210B, Epson TM-U220, Epson TM-U230, Epson TM-U300, Epson TM-U325, Epson TM-U370, Epson TM-U375
MICROS 1200W, Micros 1300W MAIN, Micros 1320W MAIN, Micros 1370W MAIN, Micros 1390W MAIN, Micros 1700 MAIN, Micros 2415W MAIN, Micros 2700, Micros 400-344 MAIN, Micros 4000W, Micros 4300-395 MAIN, Micros TM-300D, Micros TM-U200B, Micros TM-U200D, Micros TM-U210B, Micros TM-U300, Micros TM-U325, Micros TM-U370, Micros TM-U375
NCR 7455
Omni TM300, Omni TMU200, Omini TMU375
Panasonic JS-7000 MAIN, Panasonic JS-7500 REMOTE, Panasonic JS-8000 REMOTE, Panasonic JS-9000, Panasonic PM300, Panasonic PM308
Samsung SRP270, SRP-270, SRP275, SRP-275
Sharp ER-2975, ER-3210
And many more
All Items are Brand New in Factory Box with Manufacturer USA Warranty unless otherwise specified.

Website Copyright© 2002-2017 Sunshine POS, LLC
Sunshine POS, LLC
40913 N 3rd Ave
Phoenix, AZ 85086
Outside US, In Arizona and Technical Support: (623) 328-8919
Toll Free Order/Inquiry Line: 87-SUPPORT-3 or 877-877-6783