M-S Cash Drawer Epson Bixolon Black Super Compact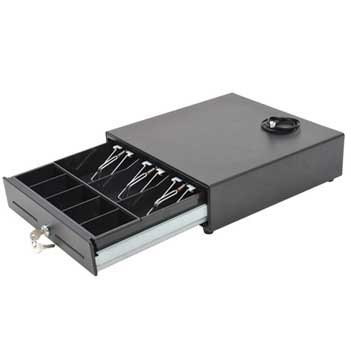 M-S Cash Drawer Epson Bixolon Black Super Compact
Retail:
$139.00
Your Price:
$99.00

SAVE $$$ - Price Includes
***FREE Continental U.S. Ground Shipping***

All Steel Cash Drawer by M-S Cash Drawer
Connects Directly to Epson or Bixolon/Samsung Receipt Printers
Printer Connection Cable Included
Removable 5 coin / 4 bill ABS money tray
Three function center key lock: manual release, electronic release and drawer lock
Dimensions: 13.0" W x 13.0" L x 3.94" H (3.54 without feet)
Super compact small size cash drawer with M-S high quality construction
Color: Black Powder Coated Finish
CC-330-B2 Specifications Sheet
Smallest cash drawer footprint available and connects directly to the cash drawer port on the back of Epson Printers (TM-T88, TM-T88II, TM-T88III, TM-U200, TM-U220 and TM-300 series receipt printers) and Bixolon/Samsung (SRP-250, SRP-270, SRP-350 series) receipt printers. When connected, it automatically opens when the computer send an open drawer signal to the receipt printer OR it can be opened manually with key. Drawer has 2 media slots on the front for inserting checks or other documents as well.
All Items are Brand New in Factory Box with Manufacturer USA Warranty unless otherwise specified.

Website Copyright© 2002-2017 Sunshine POS, LLC
Sunshine POS, LLC
40913 N 3rd Ave
Phoenix, AZ 85086
Outside US, In Arizona and Technical Support: (623) 328-8919
Toll Free Order/Inquiry Line: 87-SUPPORT-3 or 877-877-6783