MagTek MSR 3-track Sure Swipe USB Key Emul Black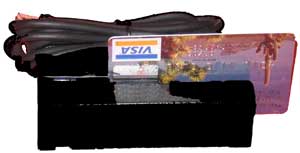 MagTek MSR 3-track Sure Swipe USB Key Emul Black
Retail:
$95.00
Your Price:
$72.95
Mag-Tek Magnetic Stripe Reader
Reads both Tracks 1, 2, and 3
USB Keyboard Emulation Interface
Black in Color
Sure Swipe Dual Heads allows for card swiping holding card in either direction.
Keyboard emulation scanners act like a keyboard to what they are connected to and send in magnetic stripe information just as if it was being typed in. Mag-Tek magnetic stripe readers have a very small footprint and are powered by the serial port or keyboard wedge interface requiring NO external power supply. Designed to read tracks 1, 2, and 3 of the magnetic stripe found on credit cards, debit cards, drivers licenses, and other ID cards with just one swipe.
All Items are Brand New in Factory Box with Manufacturer USA Warranty unless otherwise specified.

Website Copyright© 2002-2017 Sunshine POS, LLC
Sunshine POS, LLC
40913 N 3rd Ave
Phoenix, AZ 85086
Outside US, In Arizona and Technical Support: (623) 328-8919
Toll Free Order/Inquiry Line: 87-SUPPORT-3 or 877-877-6783