MagTek MSR 2-track USB HID Black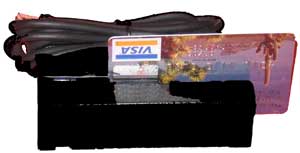 MagTek MSR 2-track USB HID Black
Retail:
$95.00
Your Price:
$79.00
Mag-Tek Magnetic Stripe Reader
Reads both Tracks 1 and 2
USB COM Port Emulation Interface
Black in Color
Mag-Tek 2 track magnetic stripe reader with USB interface that emulates a COM port . Powered by the port requiring NO external power supply. Designed to read tracks 1 and 2 of the magnetic stripe found on credit cards, debit cards, drivers licenses, and other ID cards with just one swipe.
All Items are Brand New in Factory Box with Manufacturer USA Warranty unless otherwise specified.

Website Copyright© 2002-2017 Sunshine POS, LLC
Sunshine POS, LLC
40913 N 3rd Ave
Phoenix, AZ 85086
Outside US, In Arizona and Technical Support: (623) 328-8919
Toll Free Order/Inquiry Line: 87-SUPPORT-3 or 877-877-6783