Metrologic MS7120 Orbit RS232 Kit Black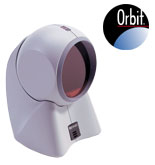 Metrologic MS7120 Orbit RS232 Kit Black
Retail:
$371.00
Your Price:
$239.00
RS232 Interface, Color Black
Fully automatic scan operation
Decodes all standard 1D, RSS-14, RSS Limited, and RSS expanded bar codes
User-replaceable, single cable interface to host
Mountable to a wall or under check-writing stands
Multiple beeper tones
Easy programming using MetroSelect? bar codes or MetroSet? Windows? - based software
Metrologic MS7120 Orbit barcode scanners are an aggressive, omnidirectional fixed or hand-held laser bar code scanner. Orbit is lightweight, rugged, small in size and BIG in performance.
All Items are Brand New in Factory Box with Manufacturer USA Warranty unless otherwise specified.

Website Copyright© 2002-2017 Sunshine POS, LLC
Sunshine POS, LLC
40913 N 3rd Ave
Phoenix, AZ 85086
Outside US, In Arizona and Technical Support: (623) 328-8919
Toll Free Order/Inquiry Line: 87-SUPPORT-3 or 877-877-6783