Metrologic MS9520 USB KBW Simulation HID Black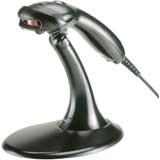 Metrologic MS9520 USB KBW Simulation HID Black
Retail:
$299.00
Your Price:
$139.95
Hands Free Operation
Black Color, Stand Included
USB Interface Simulates Keyboard KBW or HID
Replaced Metrologic MK9520-32A07 and MK9520-32A08. Metrologic produces top notch bar code scanners for many different environments. This scanner can be used in its stand or hand held. It automatically senses the barcode when placed in easy to see red light beam. See the 9540 series for same features only with the addition of codegate (trigger operation when out of stand).
All Items are Brand New in Factory Box with Manufacturer USA Warranty unless otherwise specified.

Website Copyright© 2002-2017 Sunshine POS, LLC
Sunshine POS, LLC
40913 N 3rd Ave
Phoenix, AZ 85086
Outside US, In Arizona and Technical Support: (623) 328-8919
Toll Free Order/Inquiry Line: 87-SUPPORT-3 or 877-877-6783