Partner Tech CD-7220 2x20 Beige Pole Display Serial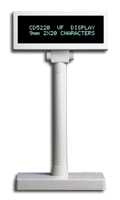 Partner Tech CD-7220 2x20 Beige Pole Display Serial
Retail:
$375.00
Your Price:
$159.00
Displays 2 Lines of 20 Green Characters
Each Character is 9mm in height
Multiple Pole Sections for Custom Height Configuration.
Serial Interface with 9 pin female cable included
Color: Off-White/Putty/Beige
Standard Size Base
Compatible with QuickBooks POS
Partner Tech CD-7220 pole display is QuickBooks POS compatible. Features 2 lines of 9mm characters and 20 character per line. Two pole sections (1 short, 1 tall) included which can be used individually or put together for extra height when needed. Standard base with a serial interface and extra pass-through serial port for connecting an additional serial device to it. The CD-7220 also offers a variety of emulation modes including Epson, Aedex, Emax and Ultimate and provides a high connection baud rate.

Off-White (Putty) in color to match other equipment you may already have.
All Items are Brand New in Factory Box with Manufacturer USA Warranty unless otherwise specified.

Website Copyright© 2002-2017 Sunshine POS, LLC
Sunshine POS, LLC
40913 N 3rd Ave
Phoenix, AZ 85086
Outside US, In Arizona and Technical Support: (623) 328-8919
Toll Free Order/Inquiry Line: 87-SUPPORT-3 or 877-877-6783