GuestLogix PowerSeller Thermal Paper Rolls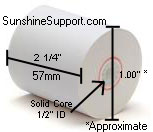 GuestLogix PowerSeller Thermal Paper Rolls
Quantity Ordered
Your Price
1
$58.95
2 to 4
$57.95
5 or more
$56.95
PowerSellerTM and PowerSeller2TM compatible paper.
Made Specifically for the GuestLogixTM On Board Power Seller Printers
Certified BPA Free Paper used in production of this item.
Each case contains 100 rolls of 2 1/4 inch x 22 foot of thermal, black image receipt printer paper. An inexpensive alternative to coreless rolls but with the same footage.
These thermal rolls are made with BPA free paper and are made specifically for the GuestLogix OnBoard PowerSellerTM and PowerSeller2TM handheld ticket printers.
All Items are Brand New in Factory Box with Manufacturer USA Warranty unless otherwise specified.
Contents: 100 Rolls
Website Copyright© 2002-2017 Sunshine POS, LLC
Sunshine POS, LLC
40913 N 3rd Ave
Phoenix, AZ 85086
Outside US, In Arizona and Technical Support: (623) 328-8919
Toll Free Order/Inquiry Line: 87-SUPPORT-3 or 877-877-6783