Thermal 2 1/4 (57mm) x 150' BPA Free Paper 50 Rolls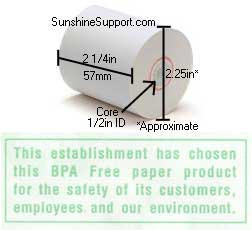 Thermal 2 1/4 (57mm) x 150' BPA Free Paper 50 Rolls
Retail:
$59.95
Your Price:
$45.95
Certified BPA Free 2.25 Inch (57mm) Thermal Black Image Printer Paper
Fits Printers Requiring 2 1/4 Inch or 57mm Thermal Paper
1/2 inch solid core for universal printer spindle fit.
Reverse is printed with a BPA Free message for your customers' peace of mind.
Each roll is 150 feet in length.
BPA Free Thermal Printed Product Information
Each case contains 50 rolls of 2 1/4 inch x 150 foot of thermal, black image receipt printer paper made from recycled paper and printed on reverse with a BPA Free message and BPA Free and recycled logos. These rolls have a 0.5 inch solid core to fit all spindles requiring 2.25 thermal. Equivalent metric width is 57mm.
FOR USE ON:
Hypercom T7PT NCR 7445-200X Axiohm A711 Casio 1600 Citizen CBM1000, CBM262, CBM270 NURIT 2085 And other printers requiring a 2.25 thermal roll that support at least a 150 foot roll.
All Items are Brand New in Factory Box with Manufacturer USA Warranty unless otherwise specified.
Contents: 50 Rolls
Website Copyright© 2002-2017 Sunshine POS, LLC
Sunshine POS, LLC
40913 N 3rd Ave
Phoenix, AZ 85086
Outside US, In Arizona and Technical Support: (623) 328-8919
Toll Free Order/Inquiry Line: 87-SUPPORT-3 or 877-877-6783