Thermal 3 1/8 Inch x 220' BPA Free Paper 10 Rolls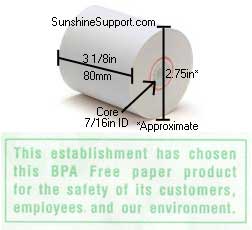 Thermal 3 1/8 Inch x 220' BPA Free Paper 10 Rolls
Retail:
$24.95
Your Price:
$17.95
Certified BPA Free 3 1/8 Inch (80mm) Thermal Black Image Receipt Printer Paper
Reverse is printed with a BPA Free message for your customers' peace of mind.
Paper and core all made from recycled materials
Fits Most Thermal Printers Requiring 3 1/8 Inch Paper
Each Roll 220 Feet in Length
Great for Epson TM-T88III, TM-T88IV, TM-T88V and Bixolon/Samsung SRP-350 Printers
Also for Star TSP100, TSP600, TSP700 series printers (all models)
BPA Free Thermal Printed Product Information
Each case contains 10 rolls of 3 1/8 inch x 220 foot of white thermal black image receipt printer paper made from recycled paper and printed on reverse with a BPA Free message and BPA Free and recycled logos. Equivalent to 80mm width paper. The roll core is also made from recycled materials for a completely environmentally friendly 'green' thermal paper roll.
Fits Epson (TM88II, TM88III, TMT88IV, TMT88V, TM-H5000 and TM-H6000), Citizen, Star (TSP100, TSP113, TSP143, TSP600, TSP643, TSP651, TSP654, TSP-743), Samsung Bixolon SRP-350 (SRP350), and many other POS receipt Printers.
All Items are Brand New in Factory Box with Manufacturer USA Warranty unless otherwise specified.
Contents: 10 Rolls
Website Copyright© 2002-2017 Sunshine POS, LLC
Sunshine POS, LLC
40913 N 3rd Ave
Phoenix, AZ 85086
Outside US, In Arizona and Technical Support: (623) 328-8919
Toll Free Order/Inquiry Line: 87-SUPPORT-3 or 877-877-6783