Thermal 3 1/8 Inch x 50' Paper 200 Rolls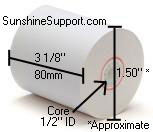 Thermal 3 1/8 Inch x 50' Paper 200 Rolls
Quantity Ordered
Your Price
1
$106.95
2 or more
$103.95
3 1/8 Inch 80mm Thermal Black Image Receipt Printer Paper
Fits Thermal Handheld Printers Requiring 80mm or 3 1/8 Inch Paper
Each Roll 50 Feet in Length
Designed for Casio IT-3000 and similar thermal hand held printers.
Each case contains 200 rolls of 3 1/8 inch x 50 foot of thermal, black image receipt printer paper. Equivalent to 80mm width paper. Designed for small handheld printers such as Casio IT-3000 requiring 50 foot thermal rolls 3 1/8 inch wide or 80mm.
All Items are Brand New in Factory Box with Manufacturer USA Warranty unless otherwise specified.
Contents: 200 Rolls
Website Copyright© 2002-2017 Sunshine POS, LLC
Sunshine POS, LLC
40913 N 3rd Ave
Phoenix, AZ 85086
Outside US, In Arizona and Technical Support: (623) 328-8919
Toll Free Order/Inquiry Line: 87-SUPPORT-3 or 877-877-6783